Tea cups missing their saucer mates - orphans, as we call them in the industry - are often seen as useless tableware items; pieces that serve no function at all and are all too soon donated or simply thrown away.
How about using those lovely orphaned cups to create a beautiful tea-cup chandelier to go over the dining table? Or, try decorating them and using as planters to form a wonderful, fresh counter-top herb garden?  
Pinterest and Instagram are chock full of this new decorating craze that is the tea-cup chandelier. Amazing, often intricate ceiling fixtures, many that light up and others that are simply decorative ceiling ornaments, these chandeliers put sadly orphaned cups, saucers and even mismatched silverware and silver service items to beautiful functional, use. Mismatched saucers serve as great bases and bent and or soldered forks and spoons, or even simply colored ribbons, can be used to attach the orphaned cups to the fixture.
Creating a tea-cup chandelier is a great DIY home decorating project that is easy to do.
In the case of a light-up, fully-functioning chandelier, one already in place and used as a central light in the room, there is no need to fiddle about with glue, or do any actual electrical work. In most cases, savvy home crafters use colorful ribbons to attach the handles of the cups to the chandelier, creating a totally unique and personalized ceiling ornament.
More elaborate chandeliers use items such as spoons and forks soldered to the metal surround and wrapped around the cup handles to dangle them decoratively from the central fixture. Even more elaborate chandeliers add a central teapot, or glue saucers onto the orphaned cups wiring the bowls with bulbs to give off a soft, diffused light.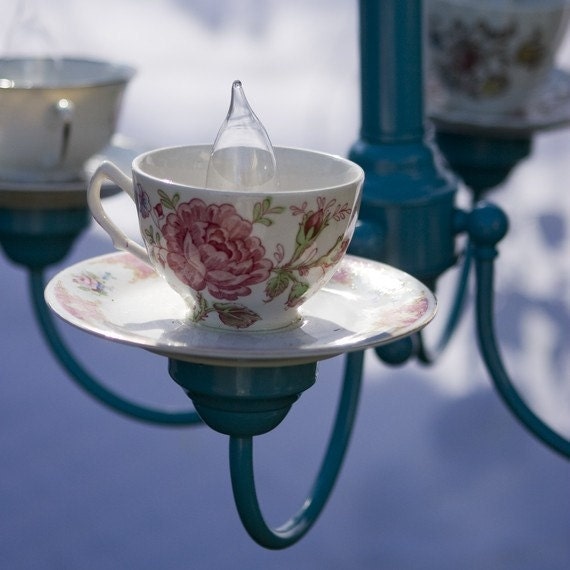 Photo courtesy of North Wales Interiors
And the commercial coffee shop in Paris shown below really went with the trend in a big way and has one of the largest tea-cup chandeliers currently on display anywhere in the world. This Goliath of a ceiling fixture incorporates more than 500 cups and saucers soldered onto a brass sphere and suspended from the ceiling. The piece is a true work of art and a strong focal point for the shop, visible from the sidewalk. This main display sets the bistro apart from its competitors and attracts many people into the store just to admire its ceiling. Sistine Chapel anyone!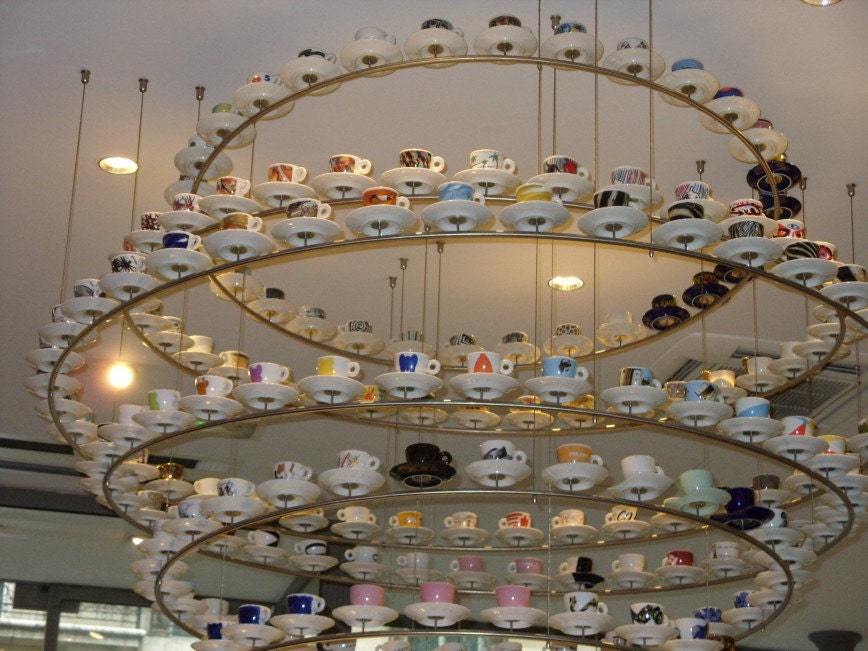 Photo courtesy of Zoe Young Kirkby of an enormous tea-cup chandelier in a Paris coffee shop.
And how about using those orphaned cups to create a wonderful counter-top herb garden? Using the cups as small planter pots and decorating the outside with letters, herb wording, or botanical graphics creates a kitchen aethetic that is unique, fun and functional. Adding greenery to the kitchen and growing fresh herbs like thyme, rosemary and basil indoors, keeps the aroma of the herbs and also keeps them close at hand and fresh on the stem, ready for immediate culinary use.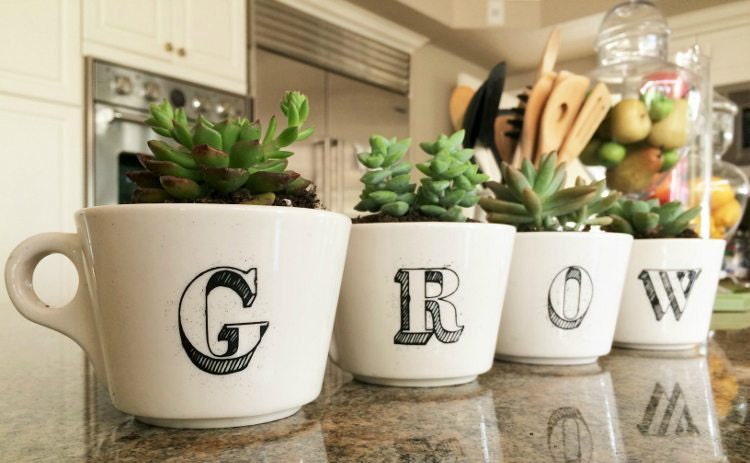 And that's not all!  Talented artistans use orphaned cups and mismatched saucers to create everything from custom pin-cushion pods, to nightlights and candle holders to one-of-a-kind decorative cake and pastry plates for fancy tea parties.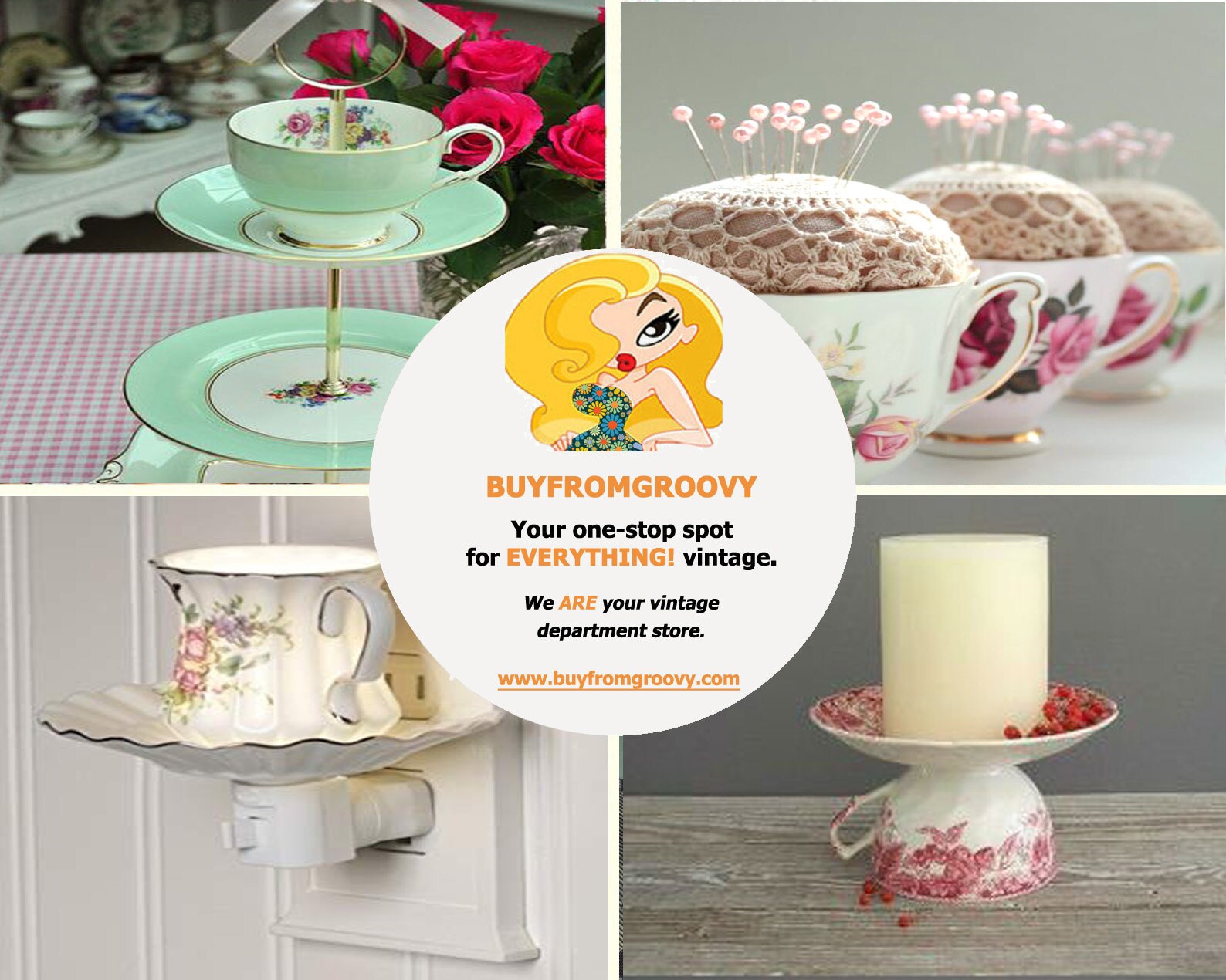 Someone once said an undecorated house is like an unwrapped gift: no matter how expensive the contents, without something to inspire the opening, half of the fun of the giving is lost. Both the box and the house have four sides, a top and a base. It is the decorative accents that make it an enticing home or gift. 
So, before throwing those orphan cups and mismatched saucers away, consider repurposing them to create your own, unique and functional home decor.
- Groovy
Groovy is the owner of the online vintage department store BuyfromGroovy at www.buyfromgroovy.com and also sells within the Etsy marketplace as BuyfromGroovy where the shop is typically in the Etsy Top 1% in its market niche.